18 years ago,  Sex and The City hit our screens for the first time, and we fell in love. The four women who encompass all women, through 94 episodes, showed us every dating scenario and every mistake you could ever make with every type of man. 
From throwing shoes at the TV because of Mr. Big, or getting irritated by Carrie's selfishness or Miranda's bluntness, to the very real emotions we feel for Charlotte during her baby struggles, or the laughs uttered at some of the idiots they date, what are the biggest lessons we can take from Carrie, Miranda, Charlotte and Samantha, and all of their experiences?
IT'S OKAY TO BE SINGLE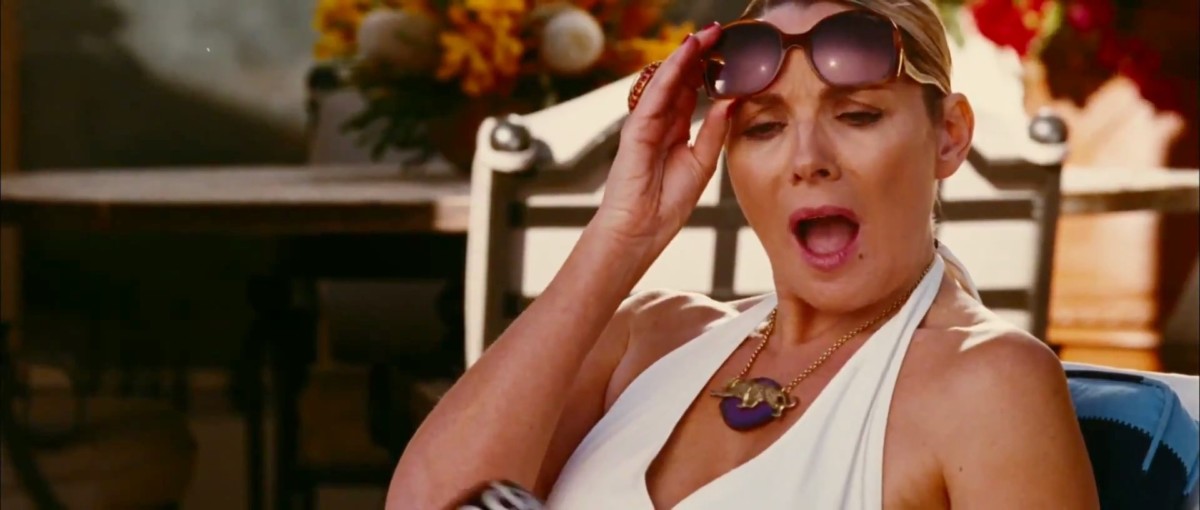 Remaining single for the majority of the show, Samantha always seemed to be having a great time. Confident, successful, and super smart, her life was filled with hot men and cold showers and she made no apologies for not wanting to settle down. In her mind New York had too many men and too little time… If there ever was Queen of Single-town, it would be our Samantha.
HOW TO TELL WHEN 'HE'S JUST NOT THAT INTO YOU.'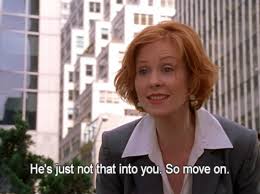 In the episode, "Pick-A-Little, Talk-A-Little", Miranda asks Carrie's then boyfriend, Jack Berger, to analyse the post-date behaviour of a potential love interest. Because the man declined Miranda's invitation to come up to her apartment after the date, stating that he has an early meeting, Berger concludes, "He's just not that into you", adding, "When a guy's really into you, he's coming upstairs, meeting or no meeting."
No excuses, if he likes you, he'll make it happen!
See more in Admit it… He's Just Not That Into You.
OPPOSITES ATTRACT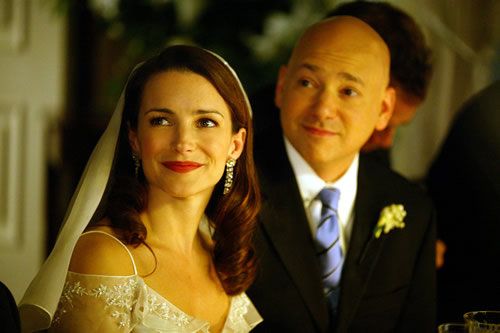 Charlotte, in the throws of divorcing her 'perfect' husband, meets lawyer Harry Goldenblatt. He is everything that Charlotte shouldn't want in a partner: bald, hairy, overweight, crude, and very sweaty. Yet she goes for him! What begins as a rebound suddenly becomes much more serious. Once Charlotte is done trying to change him to suit her image of what a man should be, she accepts him for who he is, hairy back and all, and they are married. Ahhhh.
Likewise, Miranda falls for bartender Steve. He may not be a hotshot lawyer like she's used to dating, but he is kind, warm, and makes her laugh. And he loves her, right from the start. The moral here is to write down that list of everything you want in a man – then tear it up! What should be your ideal mate on paper, isn't often the case.
See more in The Biggest Dating Mistake: The Check-List
THERE IS SUCH A THING AS A 'GOOD WAY TO BREAK UP WITH SOMEONE'.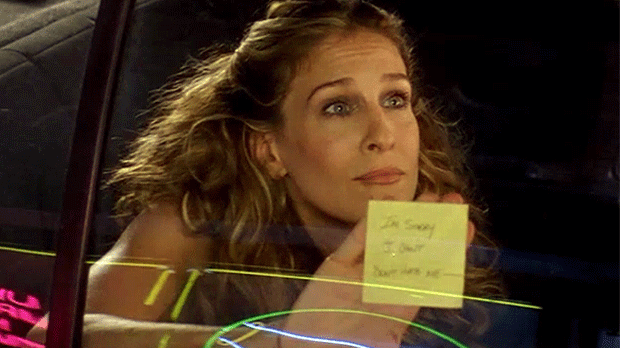 There are ways to tell someone that you're just not that into them. A post-it note is not one of them. Carrie, after a tumultuous time with writer Jack Berger, gives him another chance when he shows up at her apartment with flowers. She wakes the next day to find Berger gone, and a POST IT note on her laptop, saying 'I'm sorry. I can't. Don't hate me.'
Later, in a club Carrie advises a group of strangers (in a kind of slightly psychotic way) that there IS a good way to break up with someone – by having the guts and the courtesy to say it to a woman' s face. So take note, (no pun intended) if you are gonna ditch someone, don't email/text/ or god forbid leave a post it note, instead call them up, or better still, have a face-to-face chat. We're all grown ups, aren't we?
NEVER DOWN-PLAY YOUR CAREER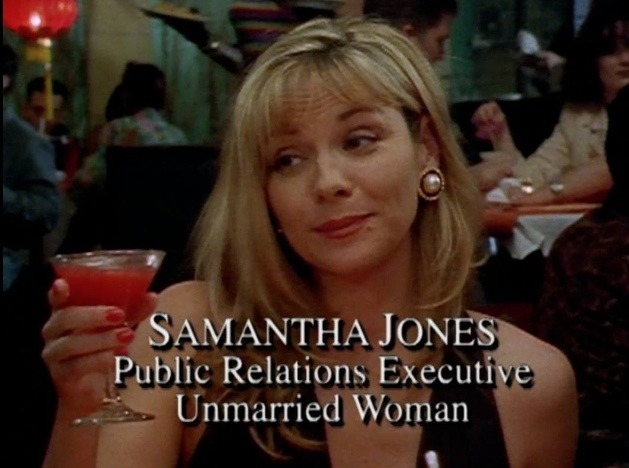 Remember when Miranda tried speed dating? (In a bid not to be dateless for Charlotte's wedding?) Every time she mentioned being a lawyer, the men all switched off. So, she changed her story. She became a 'stewardess.' Immediately all the men at the multi-dating event were smitten. It proved that men can be threatened by women in powerful positions.
Same happened to Carrie when she dated Berger. He just couldn't hack the fact that she was a more successful writer than him. Gals, men like this are to be avoided at all costs. If they don't like you for who you are (or what you do) – that's their problem. There is absolutely nothing wrong with women being the breadwinner in the relationship. Only men with small minds and big egos are threatened by successful women.
STOP WAITING FOR PRINCE CHARMING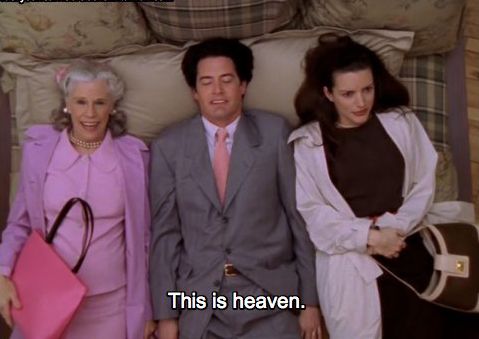 Charlotte: "I've been dating since I was 15! I'm exhausted! Where IS he?"

Miranda: "Who? The White Knight?"

Samantha: "That's what happens in fairytales…"
But Charlotte continued on her quest and wed Trey MacDougal. He was a wealthy successful doctor who doted on her every whim. However, she planned to wait until after they were wed to consummate the marriage.  Samantha noted dryly, "Before you buy the car, you take it for a test drive." Charlotte discovered to her horror (on the eve of her wedding!), that they had no sexual chemistry whatsoever. While he appeared perfect in appearance, status, background, and wealth – as a person, Trey just wasn't Prince Charming.
Mr Perfect doesn't exist. Only in fairy tales. It's all about you accepting his flaws and him accepting yours.
NEVER SETTLE FOR SOMEONE WHO MAKES YOU MISERABLE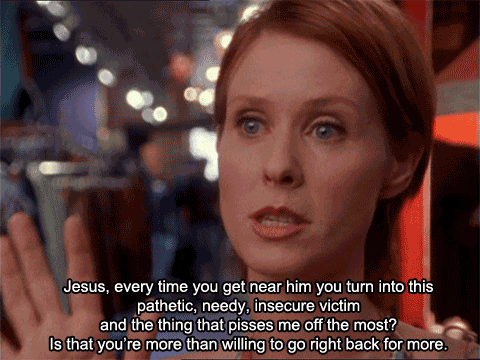 Through turbulent times, rocky relationships and countless heartbreaks, one of the biggest things Sex and the City has taught us, is to never settle for someone who just isn't right for us, or makes us change, or miserable.
THERE IS SOMEONE FOR EVERYONE
Carrie believed, "If the world's fattest twins can find love, there is hope for all of us. Somewhere out there is another little freak, who will love us, understand us, and kiss our three heads and make it all better."
YOUR FRIENDS ARE YOUR SOULMATES
"No matter who broke your heart, or how long it takes to heal, you'll never get through it without your friends," – Carrie Bradshaw.