It can be so tough being newly single, especially after a long-term relationship. Where do you begin? What do you do with all this newfound time?
The worst thing about the post-breakup period is that alongside the dulling pain of losing someone, is the new-found feeling of loneliness, and a bountiful amount of time to think. Fundamentally, we all know the only real thing to help you is time, but how to you teach yourself to be single when you've forgotten?
[Read:
What To Do Immediately After A Breakup
] [Read:
Learning To Be Single
]
Here are 12 activities to help you embrace your newfound singledom!
#1 Put together a list of everything you've always wanted to do
Make a list of all the things you love to do, and begin to make plans to do them. Whether you watch a new Netflix series or plan a new exercise regime, fill your life with things that you love to do. All the time you used to spend concentrating on your ex, means you are now free to lead your life exactly how you want to.
#2 Indulge in the ultimate escapism: reading
Remember all those books you meant to read, but could never find the time to do so? Read them now. Reading calms you, and you find yourself lost in another world. It is the perfect escape for someone hurting from a breakup.
#3 Spend time with friends and family
Your friends will be there for you every step of the way when you first break up with your partner. After everything, it is also important to make sure the conversations aren't all about you and appreciate how solid they have been for you when going through this tough time.
Show them how much you appreciate your friends by planning fun activities with them and making the most of the time you spend together.
The same goes for family. You have fewer commitments as a single. Visit family often. It gives you a warm glow inside, and they no doubt will cheer you up and be there for you when you feel a bit blue too.
#4 Go see a film by yourself
There are some newly single person challenges that make you feel more independent and strong once you achieve them. Going to the cinema by yourself is one of them. Choose a movie your ex would never have wanted to see. Grab a big box of popcorn, get comfy in your seat, and enjoy.
#5 Take yourself out to dinner
Another single person challenge is to take yourself out for dinner. Now that you aren't being wined and dined by your ex, it is important to treat yourself. Being able to spend time by yourself and enjoy your own company is a must!
#6 Have fun redecorating
There is nothing better than redecorating and bringing new homely things into your life. Even if you didn't live together, creating a change of scene will help distance yourself from memories of your ex and start your new single life feeling fresh and confident.
Clear out all of their things and then change your room or house so it's the way that you want it to be. Surround yourself with beautiful things that make you happy. Create a happy space, where you can truly relax.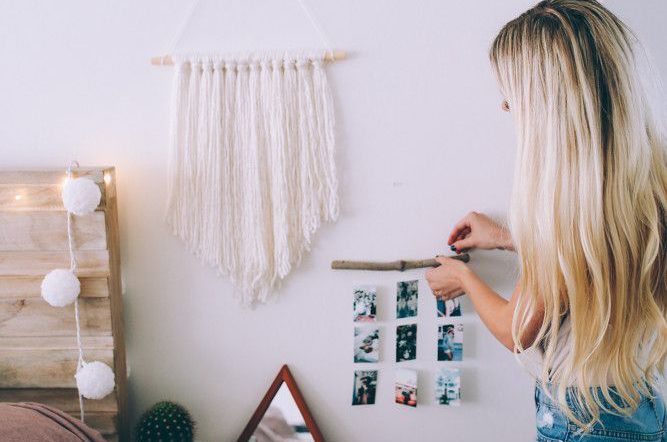 #7 Try something that scares you
Challenge yourself and do things that scare you. Being single is all about searching your soul, and finding out exactly what kind of person you are and who you want to be. Doing things that scare you proves to yourself that you are strong and independent and can overcome anything!
#8 Flirt outrageously
Flirting is loads of fun. While you might be a bit out of practice, your new single status means you need to up your flirting game pronto. Flirt with anyone and everyone. It's just a bit of fun but having a flirty conversation with that hot server you get coffee from every morning boosts your confidence. It is bound to put a smile on your face again.
#9 Have a taste of the dating game
While you might not be able to even think about dating anyone else at first, there will be a point in your single life where you feel ready to explore the dating game again.
The best way to approach this is with a sense of fun and expect nothing serious. If you immediately go on a desperate search to find the love of your life (preferably so you can smugly parade them in front of you ex at parties) you'll only feel sad and let down when your date doesn't match up.
Just put your feelers out and enjoy it for what it is. You never know what might happen. It's all good practice after all.
#10 Start a new hobby
Doing new things is a great way to fill your time and to feel as though being single has made your life richer and more exciting than ever before.
Always wanted to write a book? Why not give it a try? Always wanted to take up a martial art? Do it. You feel so much happier pursuing all your hopes and dreams and realise you are better off without your ex.
#11 Have a 'reinvention' makeover
There is nothing better to affirm your newly single status by getting a bit of a makeover. Throw out all those old tatty slob clothes. Invest in some great new underwear. Experiment with your style and hit the gym.
Feeling good about your appearance gives you a confidence boost and make you feel as though your life is moving in the right direction.
#12 Spend a night on your own
When you're used to sharing a bed with someone, it can be really difficult when suddenly find your bed empty. It feels so big and lonely. Not only that, but you are used to sharing your evenings with someone else. Whether it's going on date night or just snuggling in front of the sofa, you used to have company.
However, spending an evening alone is a milestone that is good to get ticked off as soon as possible. Try to make it fun. Watch your favourite movies (not ones that remind you of your ex!), cook yourself a nice meal, enjoy a bubble bath.
Find ways to relax and unwind and indulge in some much deserved "you time." You might find you actually enjoy it!
Being single is scary and daunting. By following these steps on how to be single after a long relationship, you'll learn how to be a happier, healthier single you and start to truly love the single life!